Al Crisp
Al is a qualified outdoor specialist working as a lead instructor for the Outward Bound Centre in Aberdovey. A keen outdoor sports enthusiast, he has been kitesurfing for 4 years and is also into whitewater kayaking, sea kayaking, surfing, sailing, cycling and climbing. Basically if involves wind or water or preferably both, then Al''s into it! The Crossing is Al's brainchild and the concept came about as a result of his desire to give something back to a hospital that works very hard to improve the lives of people that have suffered spinal injuries.
Rupert Tildesley
Rupert has been kitesurfing for 5 years and can be found on the water after work during the summer months whenever there is wind. A former dinghy sailor and yacht racing tactician, Rupert has sailed across the Irish Sea many times, but never on something the same size as a large tea tray. Working as a ski instructor during the winter months in Val d'Isere, France, Rupert is a director of ICE-International Centre of Excellence, a ski instructor training centre specialising in Gap and Career break courses. As a a BASI Trainer, a member of the British Demonstration Ski Team and qualified to the highest level in both the British and French systems, Rupert is one of the most experienced top level ski coaches in the world.
Outside of skiing, Rupert runs Saturn Innovation, a web development company who built this website and and who are sponsoring the Crossing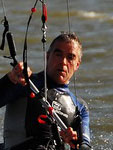 John Tildesley
A very competent kitesurfer in his own right, John is a formidable yachtsman and has competed at a high level in both dinghies and yachts. Formerly owner of Sigma 38 Gambit, John has won the national championships and many other regattas. His navigational and tactical expertise will be invaluable on the Crossing. He was the principle navigator on a rowing crossing done on a similar route a few years ago. John runs W.H.Tildesley Ltd an independent drop forge in Willenhall in the West Midlands. The company, W.H. Tildesley Ltd is a sponsor of this event. Please visit them at www.whtildesley.com.
Andy Jeffrey
AJ is the centre manager of the local Outward Bound centre. A formal naval officer and helicopter pilot, he is an experienced waterman and always up for a challenge. Thanks to him, we are able to use the Outward Bound big RIB, known as the MOTH as our support vessel and during training. AJ is a keen sailor and owns a 49er, GP14 No.6 and a Laser, quite a collection! Please visit www.outwardbound-uk.org for more info on the valuable work that OB does for young people.
Sarah Quinlan
Quinners is an outdoor instructor who runs her own business Adventure Camps, running courses for scout, school, university and corporate groups. AC sponsor the event, and are specialists in gorge walking, climbing, hill-walking, kayaking and surfing, so please check out what they have to offer at www.adventurecamps.co.uk. Quinners is also a keen kitesurfer and very often the only girl ripping it up in Dovey surf, kicking the lads' arses. She is also Irish so we will be relying on her to order the Guiness.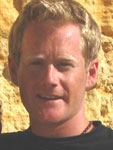 Robin Goodlad
Robin is a keen kitesurfer from Aberdovey who has been kiting for two years and can often be found out there even on the coldest mankiest winter day. He also surfs as much as is humanly possible in Aberdovey and also anywhere in the world he can get to. Robin loves photography, and he runs his own business, natural light photography in the village He is also an instructor and experienced powerboater and also the senior helm on the RNLI lifeboat in Aberdovey. Natural Light Photography are a sponsor of the event and you will see their photos dotted round this website. Please visit them at www.naturallightphotography.co.uk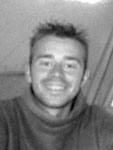 Howard Crompton
I have been a member of the Aberdyfi RNLI Crew for nearly 3 years and in that time I have rescued several kite surfers so I am going to be on hand if it goes wrong! (which I hope it doesn't!!!). I am also tagging along for the pints of Guinness that I'm sure will be drunk preferably not in the middle of the Irish Sea mind. After several failed attempts at kite surfing myself I will try and use this as an incentive to get out more and who knows I might have to get rescued myself!!